Adhesives and Glues
Example 1
User

Major textile processing manufacturer
Application

Adhering interior finish materials for automobiles
Model used

PR-40-2.0X
Problem
This manufacturer uses a press process to attach interior finish materials for automobiles together using an adhesive (with a viscosity of 350 mPa·s at 25 degrees Celsius).
They had already tried various automatic spray guns in the past, but they were encountering various problems. For example, the adhesive was drying up into threads midair during spraying, their spray coverage was not wide enough, and overspray was causing the area around the spray gun to get dirty.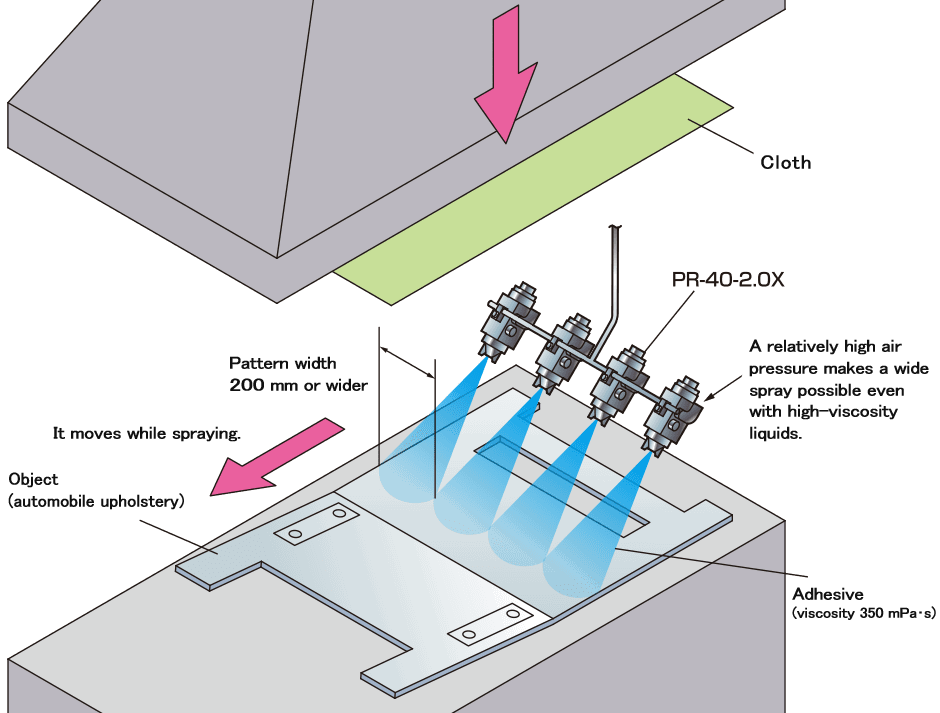 Lumina's proposal and result
We proposed the PR-40, which is our model with the widest spraying capability. The PR-40 features two adjusters – one for atomizing air pressure and one for pattern air pressure – so its mist can be fine-tuned. For this application, the atomizing air pressure was set relatively low for an adhesive to prevent overspray, while
the pattern air pressure was set high to ensure the spray pattern was wide enough.
(Spraying conditions)

Atomizing air pressure: Approximately 0.08 to 0.18 MPa
Pattern air pressure: Approximately 0.15 to 0.25 MPa

Liquid pressure: 0.15 MPa (using pressure feed tank)
Target distance: 300 mm
As a result, the PR-40 pattern width was increased by 30% to 40% compared to their old spray gun, allowing them to coat an area over 200 mm wide with a single spray gun.
We also solved the issue of the adhesive partially drying in midair, and by setting the atomizing air pressure relatively low, overspray was no longer an issue, greatly improving the work environment.
Example 2
User

Automobile parts manufacturer
Application

Applying adhesive
Model used

ST-5R-0.5X
Problem
This manufacturer attaches rubber seals to 0.8 mm steel plates with adhesive to manufacture automobile window frame materials. They were looking for a way to efficiently coat each of the three sides of the object with adhesive.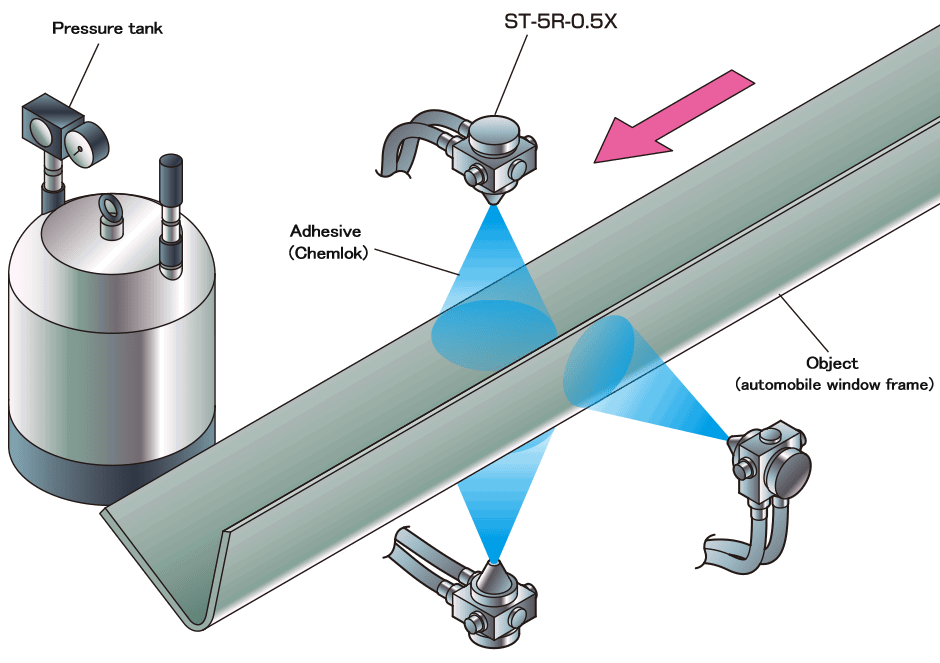 Lumina's proposal and result
We proposed three ST-5R-0.5Xs with round spray patterns. To handle the adhesive viscosity, we suggested a relatively high atomizing air pressure. Pressure feed tanks were used to convey the liquid.
(Spraying conditions)

Atomizing air pressure: 0.22 MPa
Liquid pressure: 0.3 MPa (using pressure feed tank)

Liquid flow rate: 10 mL /min
As a result, we succeeded in creating a system to provide adhesive as the client envisioned. With just periodic maintenance, their system now has a stable performance with fewer clogs.