Metalworking Fluids and Lubricants
Example 1
User

Chassis production for OA equipment
Application

Press forming
Model used

PR-40-2.0X
Problem
This manufacturer uses press forming to manufacture 500 mm x 450 mm chassis for OA equipment such as copy machines and multifunction printers.
Applying a coat of press lubricant (kinematic viscosity 15 mm²/s at 40℃) over this wide area was giving them trouble.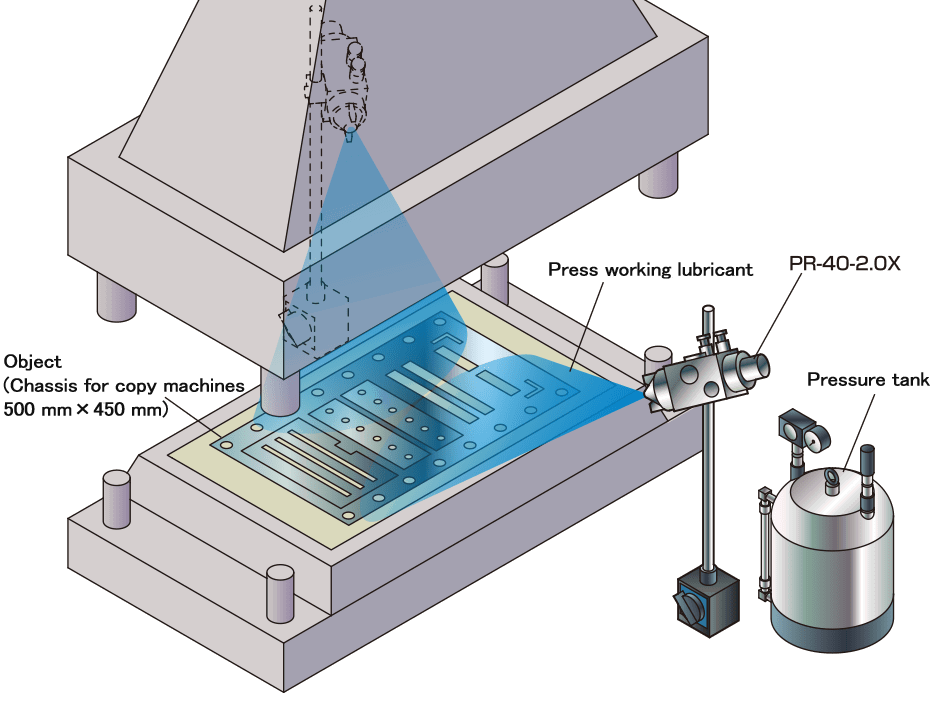 Lumina's proposal and result
Since installation space was limited, we suggested a PR-40-2.0X for its ability to coat over a wide angle with a single spray gun. We looked for a way to spray lubricant horizontally over the press plate being conveyed to the manufacturing point from two points, one in front of the press and one behind it.
(Spraying conditions)

Atomizing air pressure: 0.05 MPa
Pattern air pressure: 0.1 MPa

Target distance: 300 mm
Fluid provision: Pressure feed tank
As a result, damage to the objects manufactured was decreased compared to when the lubricant was insufficient, improving yield. We succeeded at increasing productivity.