Lumina's Strengths
Lumina has manufactured and sold automatic industrial spray guns for over sixty years.
Over that time, we have refined our unique strengths through repeatedly developing products based on the needs of our customers.
Here, we would like to introduce three of these strengths.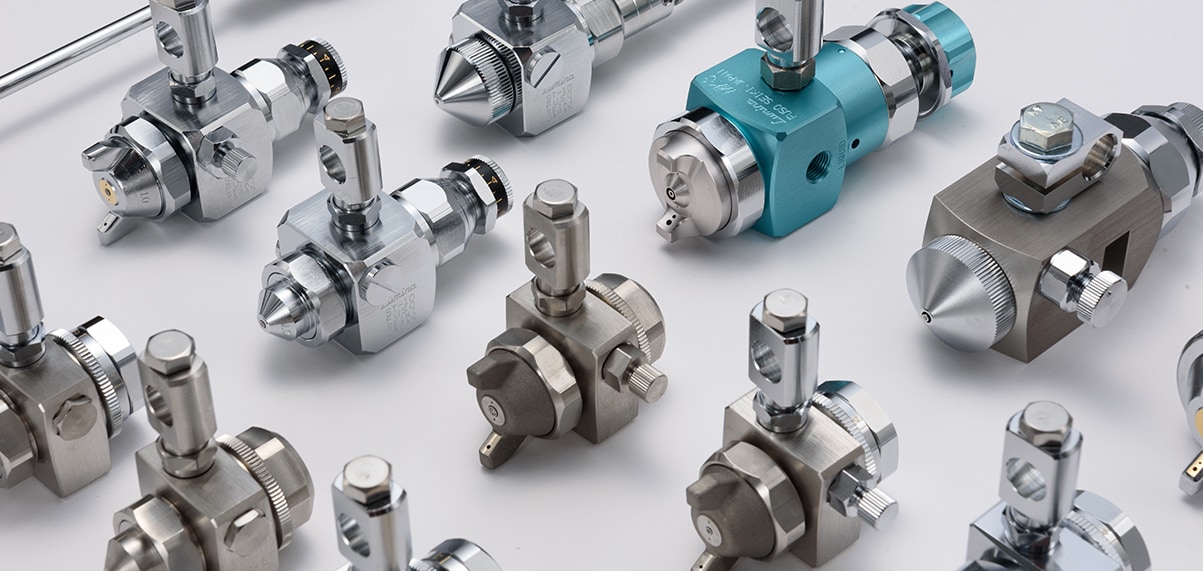 Lumina automatic spray guns are stationary coating devices and are turned on and off by compressed air. A typical application for one such spray gun would be at a metal forming facility, where it might be used for press molding, cutting, or die casting. For example, when using one of our spray guns for press molding, it could apply lubricant to the strip material to decrease the damage caused by press friction. In such a situation, our spray gun would contribute to increasing yields and conserving lubricant by applying a uniform coat of lubricant over the entire strip material.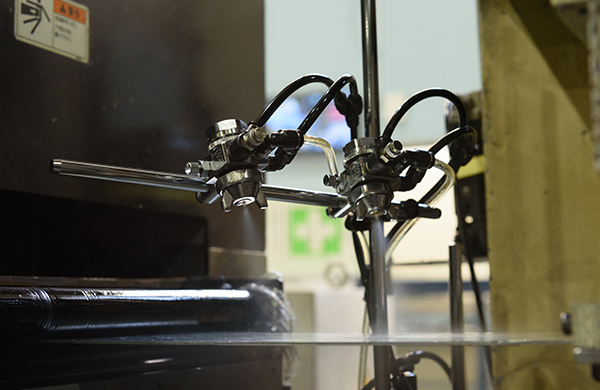 Automatic spray guns used in production lines must not overspray. In order to provide soft coatings that prevent facilities from getting dirty, Lumina has worked to develop a wide range of product variations for spray guns, liquid nozzles, and air caps.
The Many Applications of Lumina
Of course, spray guns are not only meant for providing lubricant. Our spray guns can be used for everything from release agents and semiconductor fluxes, to adhesive coatings, marking, humidification, and applying alcohol or seasonings. We have a rich history of experience providing fluid coating solutions to many fields of industry. If an application requires a thin, uniform layer of fluid coating, no matter what it is, Lumina can handle it.
Press forming

Die casting and injection molding

Painting and coating

Steel sheet rustproofing

Adhesives

Flux coating

Food production


(Cooking oil, alcohol, etc.)

Surface treatment

Marking

Line drawing

Cooling

Factory humidification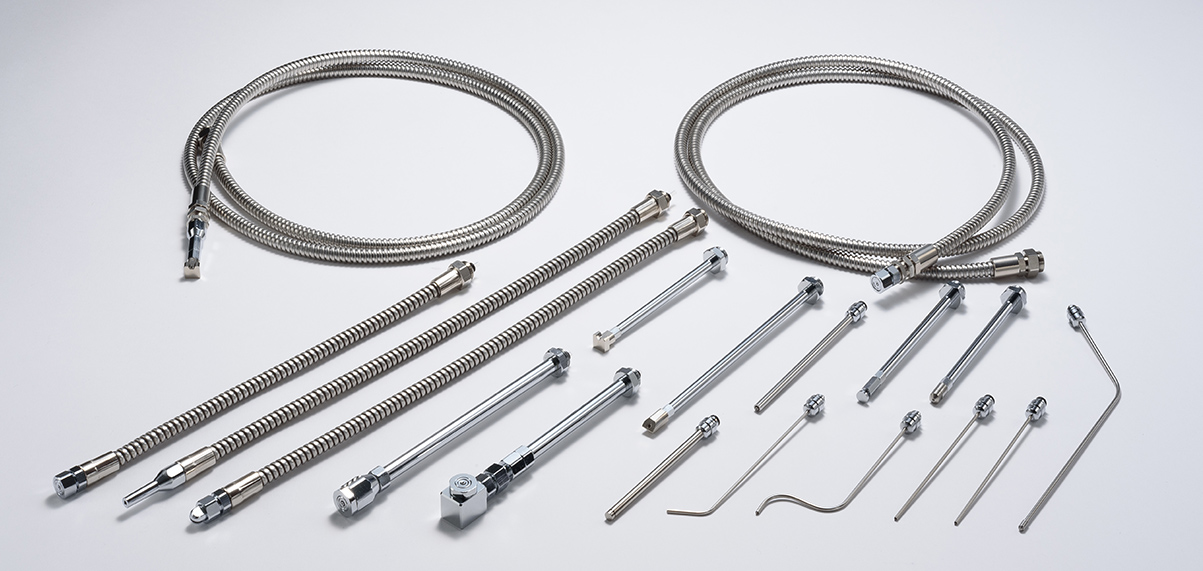 Lumina products excel at delivering coating fluids to the interiors of cylindrical objects. Select one of our dozens of 2-14 mm wide compact long nozzles to suit your target coating width, coating angle, and fluid viscosity.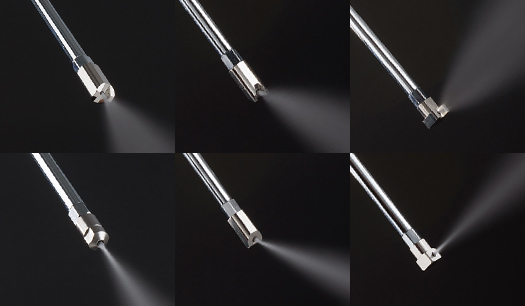 For particularly small objects less than 60 mm in internal diameter, our ST-C8 series is particularly popular. It has three settings: 90 degrees, 45 degrees, and 0 degrees (straight). By placing the target object over the spray mechanism and rotating it, one can successfully provide an even interior coat of the desired thickness.
90 degrees

This 90-degree setting sprays sideways. The flat-fan head provides a flat, vertical spray relative to the cylinder.

Even when the target object has a flange, it can steadily coat the uneven surfaces.

Inserting the spray head into the small hole allows for coating of the target area.
45 degrees

Since it is angled downwards, one can maintain the required spray distance even for very thin cylinders (of above 13 mm).

With the 45-degree angled spray, one can easily provide coating near the bottom of the cylinder.

Inserting the spray head into the small hole allows for coating of the target area.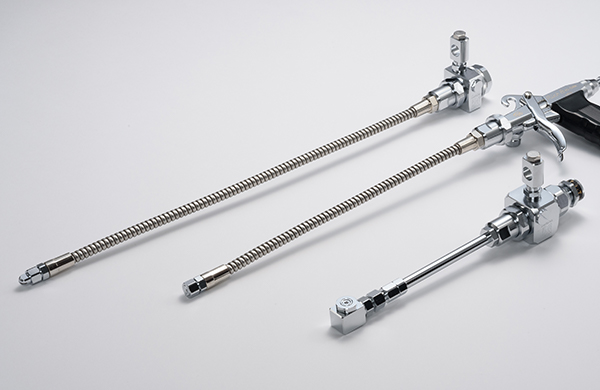 Spray guns equipped with long nozzles are not only useful for providing internal coatings. For example, they make it easy to reach the narrow gaps in mechanical equipment merely by inserting the tip of a long-nozzle spray gun. A flexible or brass long nozzle excels at such tasks. Lumina's vast selection of spray guns, nozzle materials, nozzle lengths, and spray patterns (round, flat-fan, spiral, etc.) allows for over 1500 possible combinations. Also, not only do we offer customizability, we are also able to provide custom-order spray guns. If you have a coating challenge that you just cannot solve, please contact Lumina.