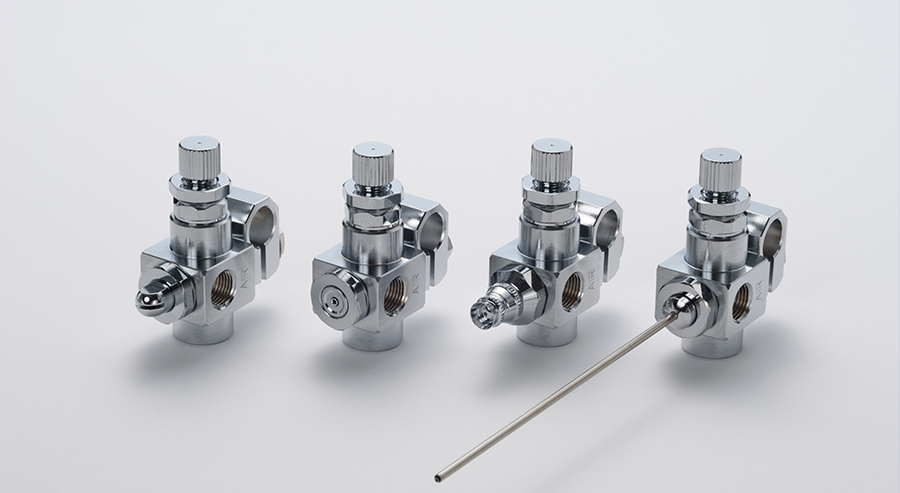 Lumina's line of ultra-compact, lightweight automatic spray guns. We succeeded at creating such a surprisingly compact model by using a simplified valve construction. The line-up offers various unique models, including with a wide flat-fan pattern spray type nozzle with a maximum spray width of up to 600 mm or with a small round pattern needle nozzle.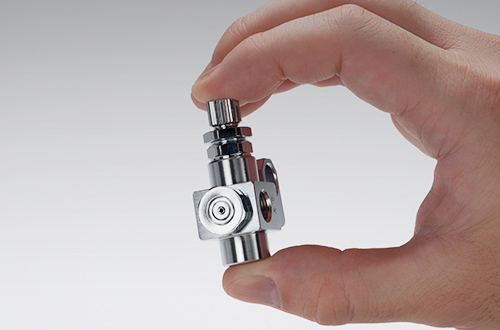 The ultra-compact nozzle takes up little space
With a width of 20 mm and a height of 50 mm, the HM series has the one of the most compact bodies in the world. This makes them ideal for installing in the narrow spaces on production lines or inside equipment. Since they are lightweight at under 150 g, they are also suitable for installation on robots.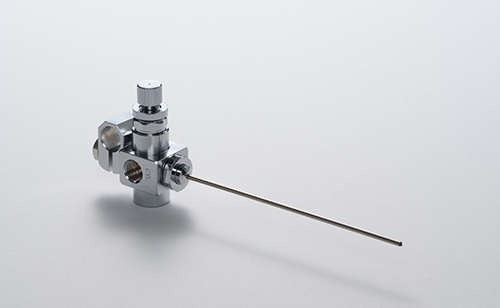 The needle nozzle which is ideal for pinpoint coating
The HM-6LX and HM-3LX use a small round pattern nozzle with an outer diameter of 2 mm. Nozzle length and curve can be specified by the user so they can pass through the gaps in mechanical equipment in order to provide fluid coatings to the object, mold, or other items within with pinpoint accuracy.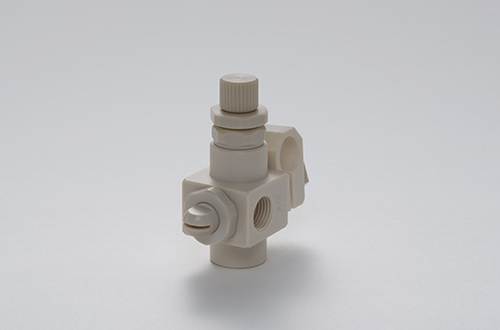 The PPS resin body can withstand even special fluids
Within the HM series, the HMP series models have polyphenylene sulfide (PPS) bodies which can withstand strong chemicals like organic solvents, strong acids, and strong alkalis. This feature is useful when coating with fluids that corrode even stainless steel. You can select PPS resin bodies for every item in the HM series (Please note, however, that the needle nozzle on the HMP-6LX and HMP-3LX is made of 304 stainless steel).