Paint
Example 1
User

Major spring manufacturer
Application

Marking automobile springs
Model used

ST-6R-1.0X
Problem
This spring manufacturer produces springs for use in automobiles.
They had been using another company's automatic spray gun to provide yellow lacquer as an identification marker.
However, that spray gun had a high atomizing air pressure which caused overspray of the coating, making it reach the opposite side of the target area.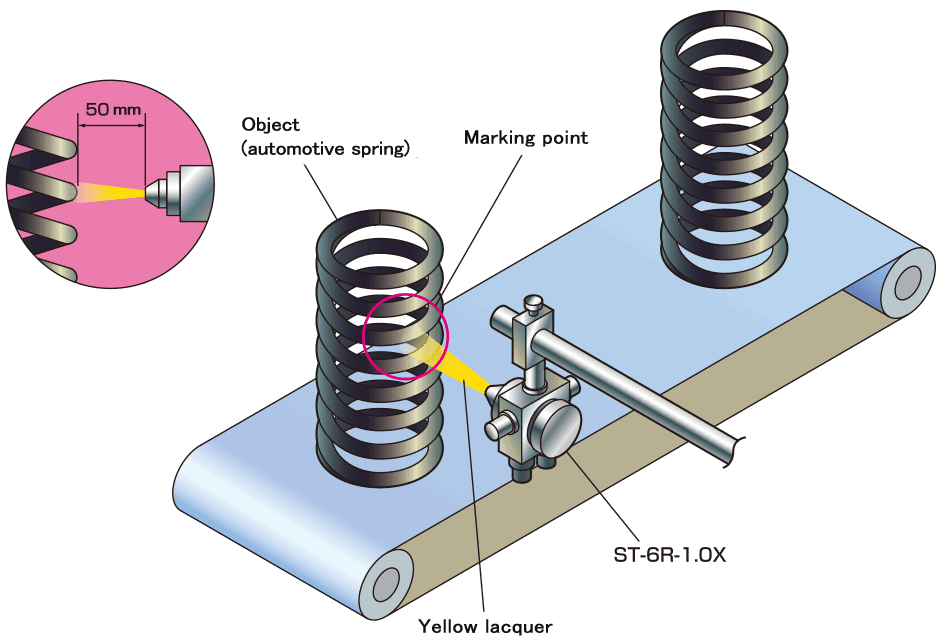 Lumina's proposal and result
We proposed a standard round-pattern type ST-6R-1.0X spray gun. The original target distance was too long and, at over 0.2 MPa , the atomizing air pressure was too high. We decreased the target distance to 50 mm and lowered
the atomizing air pressure to 0.05 MPa.
(Spraying conditions)

Atomizing air pressure: 0.05 MPa
Target distance: 50 mm

Fluid provision: Pressure feed tank
As a result, the client was able to mark their products clearly without overspray.