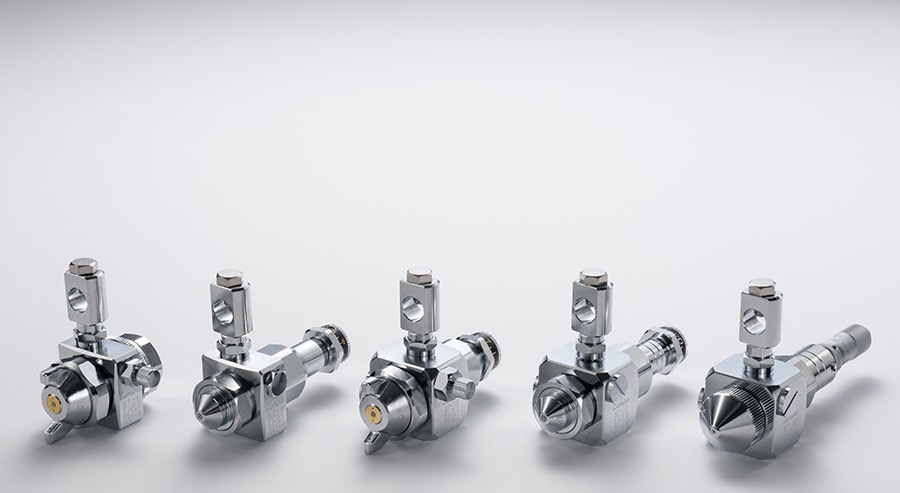 The ST series is the most standard series of Lumina automatic spray guns. The ST series offers a wide variety of available bodies, coating patterns, and liquid adjusters, so they can be used for many applications. In addition, they are compatible with long nozzle attachments, creating an unlimited number of variations.
A wide variety of spray patterns
The central part of a spray gun is the liquid nozzle. Outside of the standard nozzle, the ST series is compatible with other nozzles including the SK type with a sharp, pointed tip for providing a small round pattern and the RW type which creates a spiral current and sprays in a wide round pattern. The nozzle type can be matched to the customer's desired application, whether it is to create as fine a spray as possible or efficiently spray viscosity adhesives.
Flat-fan pattern

This provides an elliptical spray pattern. It is suitable for coating objects that are relatively wide.
Round pattern (R)

This provides a round spray pattern. It is suitable for coating small objects or coating with pinpoint accuracy.
Small round pattern (SK)

This pointed fluid tip has a diameter that can create fine spray patterns of less than 10 mm in diameter. It is well-suited to pinpoint coating and marking.
Wide round pattern (Spiral, RW)

This provides a larger spray pattern than the round spray pattern. Due to its spiral current makes it resistant to clogging, so it is well-suited to coating with high viscous liquids.
Wide fan pattern (W)

By adjusting the air pattern using the independent air piping, this nozzle type can achieve a wider spray than the flat-fan pattern spray.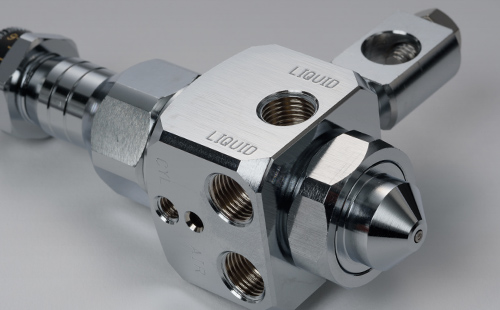 The ST-10 model with liquid circulation functionality
When spraying liquids that contain solid particles or immiscible liquids, it is important that the liquid is circulated. In cases like that, we recommend the ST-10 model because it has two liquid attachment openings (for input and output). It is a high-end model whose construction features a multi-layered seal and a highly-accurate liquid adjuster. It is suitable for customers who need it for painting, adhesive coating, and other applications.

Stainless steel types
For highly-corrosive liquids, instead of our standard models that feature chrome-plated brass, we have the stainless steel STS series, which is entirely made of corrosion-resistant stainless steel, as well as the STA series, which has stainless steel for every portion that contacts liquids. Stainless steel models are also recommended for customers in the food industry who need to ensure that foreign objects are prevented from entering their product.
Model display